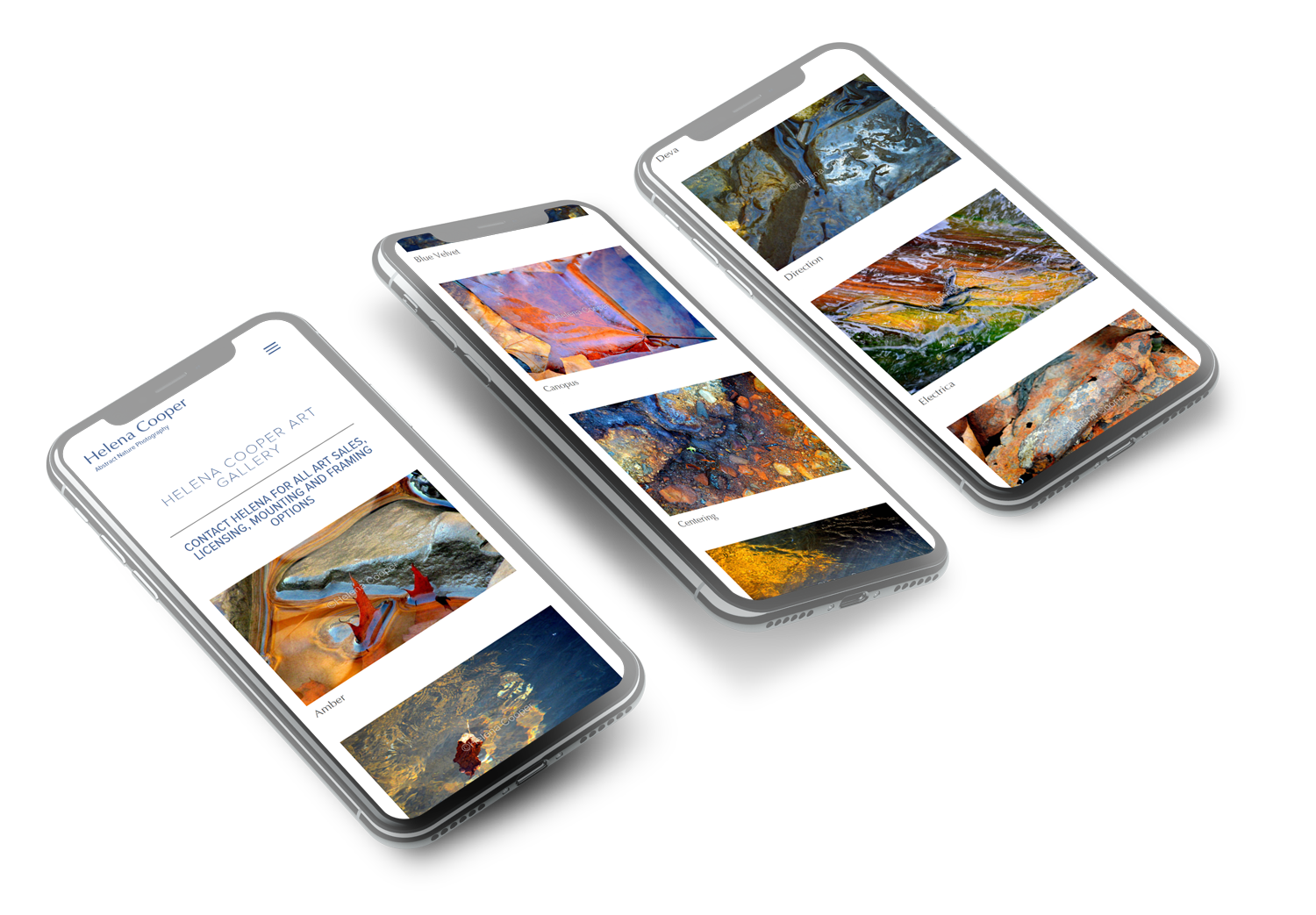 a brand that's
inspired by nature
Helena Cooper Art client engagement:
brand development, website design, social media marketing, social media advertising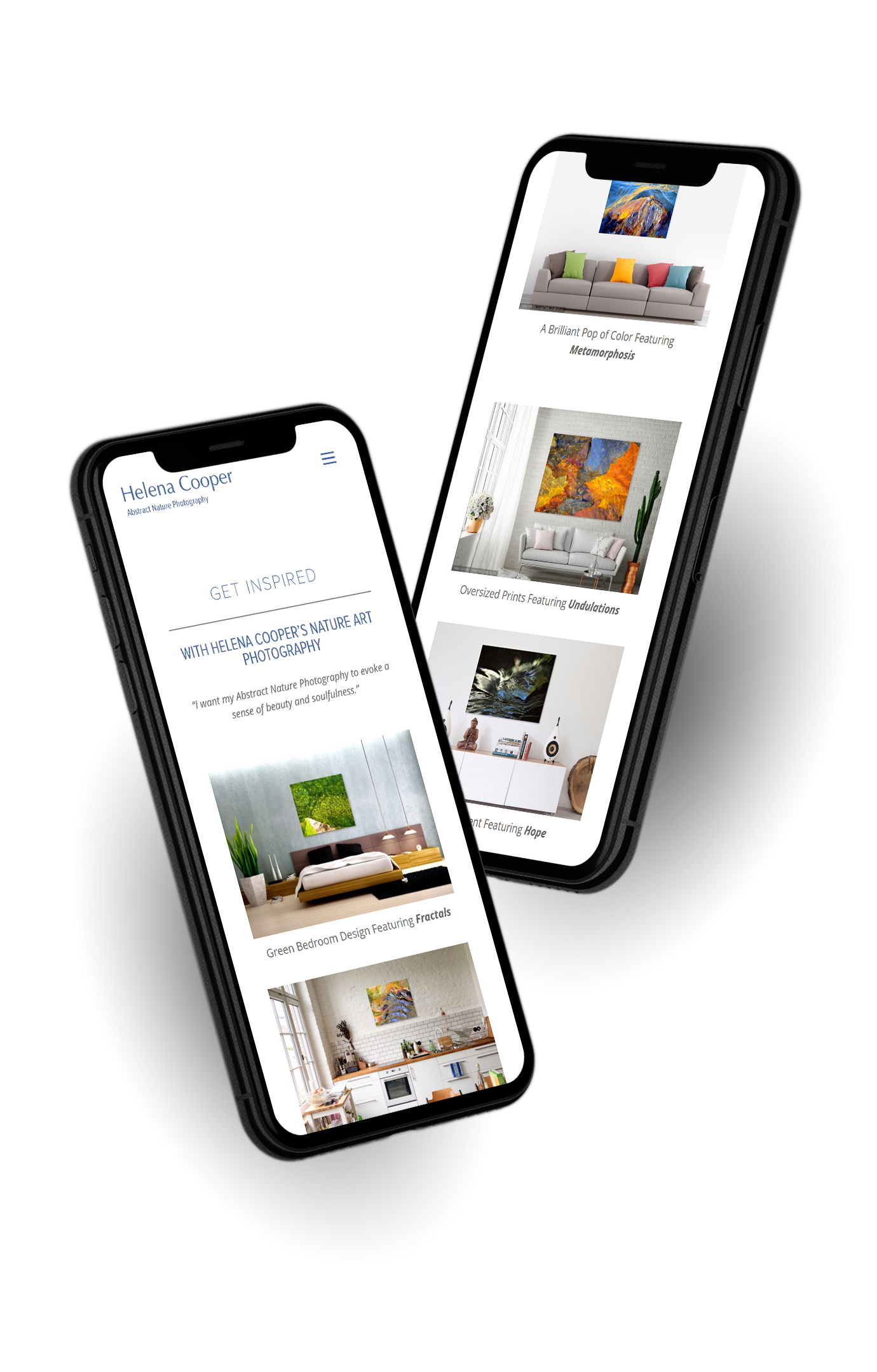 Helping a local artist discover the power of Brand Development
Helena Cooper is a local artist in the Ithaca, NY area that specializes in capturing stunningly beautiful moments in nature in the form of abstract nature photographs. Her work has been featured in Universities, Hospitals, Community Centers, Retreat Centers, Businesses, Performance Venues, Non-Profit Organizations, and more. It brings beauty and life to all kinds of spaces.
True Creative began our engagement with Helena Cooper with a focus on brand first. Her original company name and website was built around the name "Natureza Cura" or healing through nature in Portuguese. While this is a beautiful element that defines her brand, it presented some logistical issues, such as the potential difficulty for individuals to remember the spelling for searches online. Ultimately, we recommend using Helena Cooper Art as the main company name.
Building and optimizing an eCommerce Website Design for an online art portfolio
Helena needed a clean, well-design website built to feature her work online and provide website visitors the opportunity to purchase her artwork in a variety of formats. We designed a new website for her using a simple color palette and page design so as to not compete with the beauty of her work. Her work is incredibly colorful, vibrant, and detailed, so we wanted to make sure to design a website that allowed her work to "breathe".
In addition to the development of the online shop and portfolio pages, we also created an online blog platform and news page. This created the framework needed for Helena to engage with audiences on social media and link to her website, driving traffic and potential sales. Overall, the new website created an environment for Helena to use as a comprehensive online portfolio of work, accolades, inspirations, and featured locations so that she had a well-designed marketing platform to provide individuals interested in featuring her work.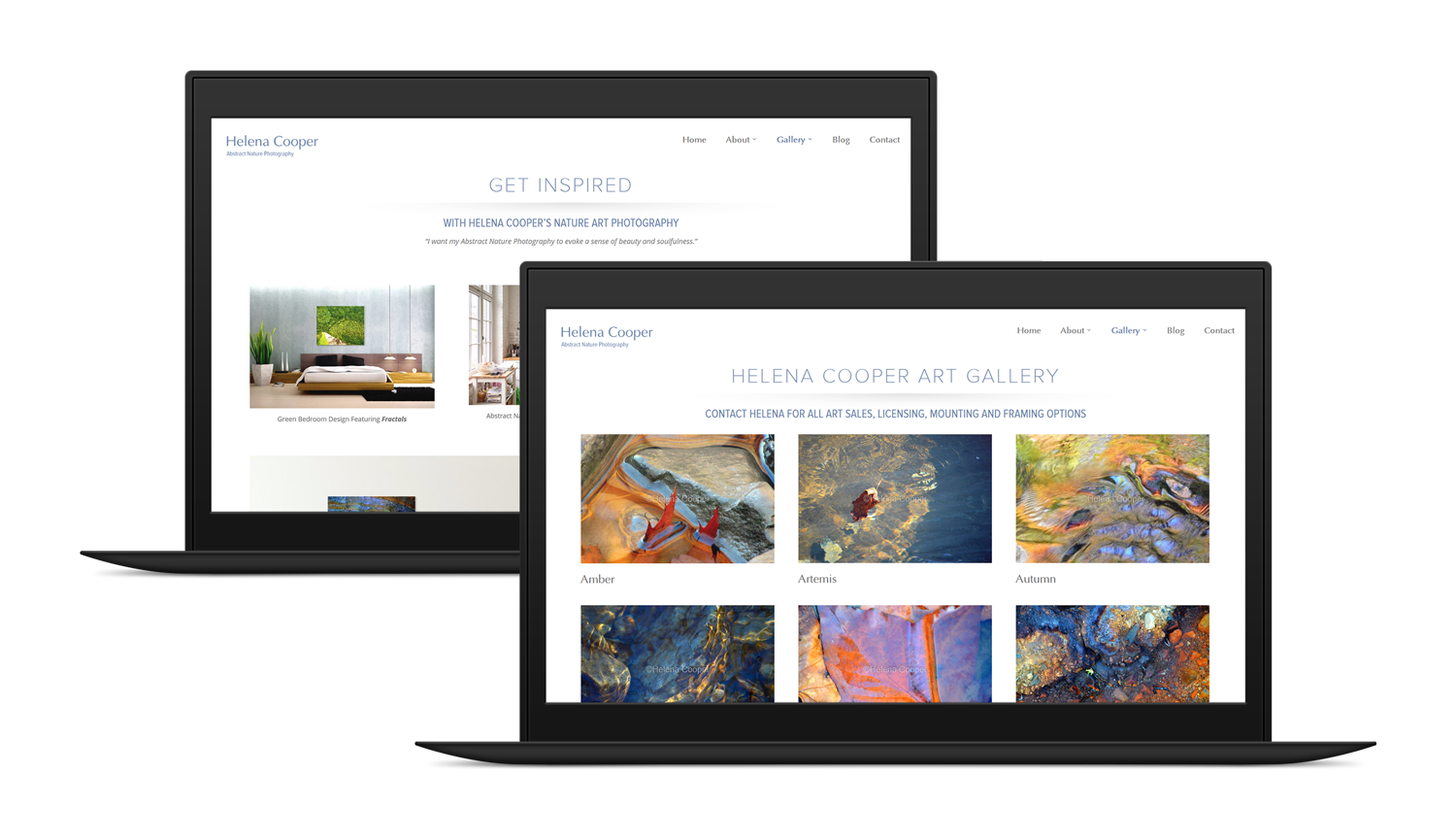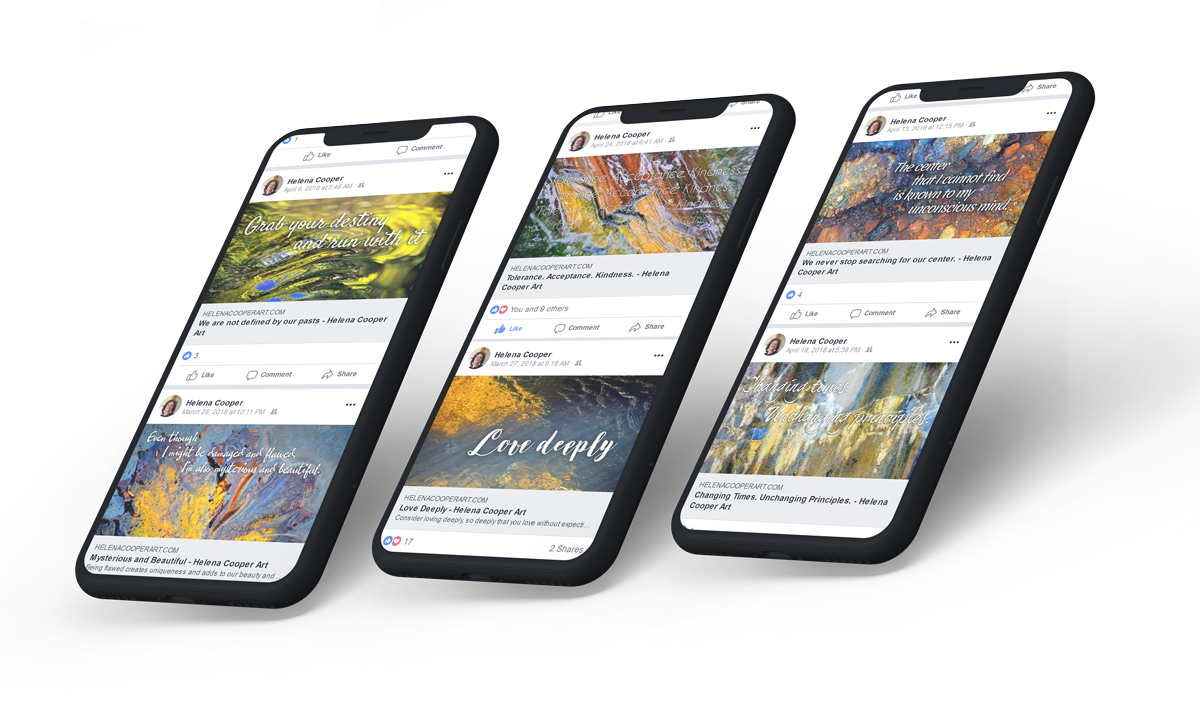 Using custom Social Media Marketing to engage her social media audience.
With the new website platform well-established, we engaged Helena Cooper with a series of custom-design and written social media posts. This series was focused on using stylized text with her imagery to create a custom meme-style post—communicating healing and rejuvenating messaging. These posts were added to her website blog page and posted on social media weekly throughout the campaign.
Using targeted Social Media Advertising to reach potential customers and individuals with a passion for photography, nature, and the arts.
Social media advertising is a powerful online marketing channel to hone-in on the specific audiences that live within a certain region. It targets those that have specific interests to improve the chances of a lead, conversion, or sale.
In Helena's case, we implemented social media advertising with a very low pay-per-click ad budget to drive traffic to her website, generate awareness and engagement across her social media channels, and potentially improve artwork sales online. True Creative designed and launched a Facebook carousel ad featuring up to 10 pieces of artwork mocked up in realistic settings to provide users with context for how her artwork could add a splash of vibrant color within any environment.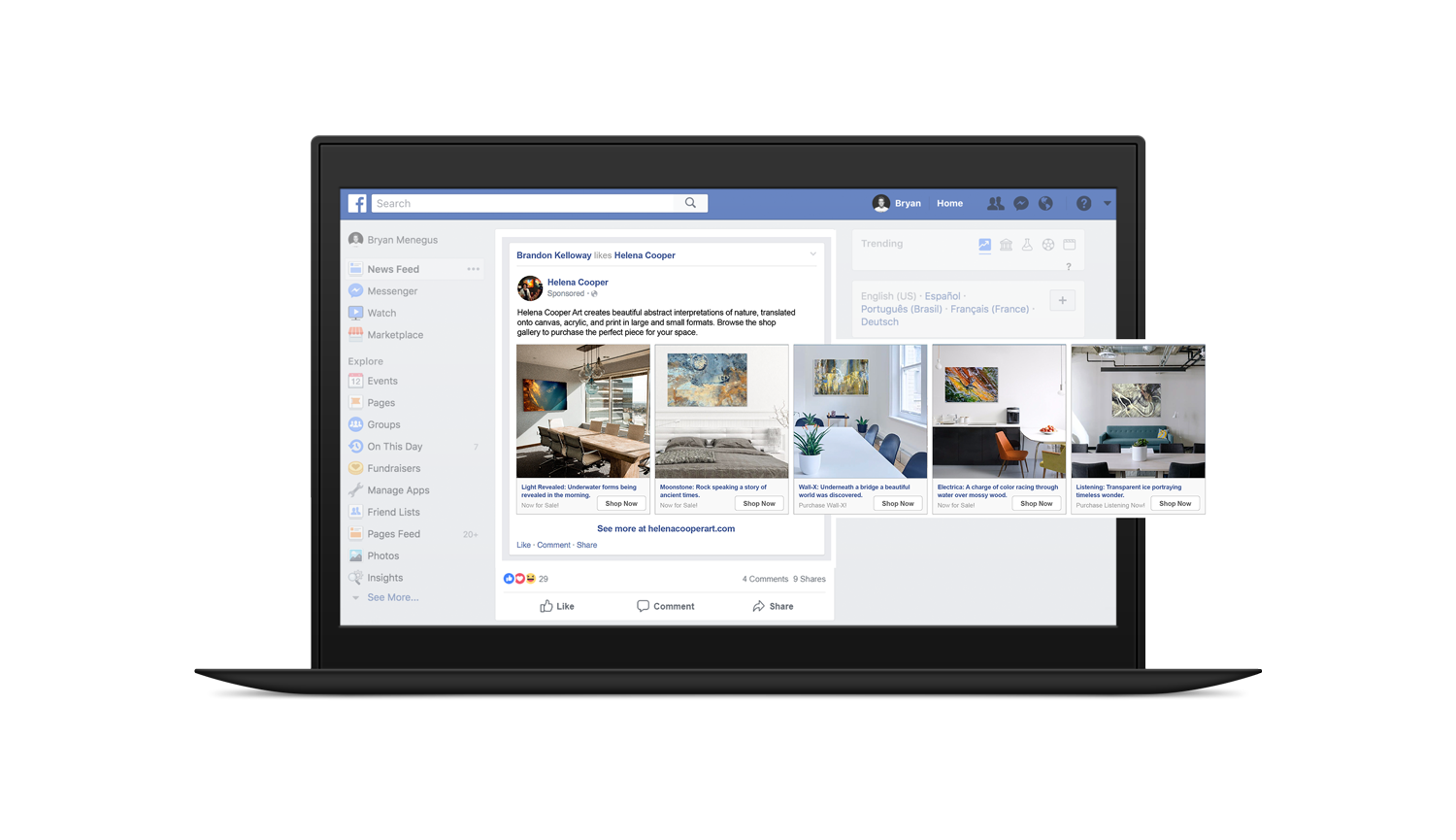 Daily ad budget during ad campaign
Ad impressions from 3-week social media advertising campaign
People reached during 3-week social media campaign
Social media campaign ad link clicks
Page views during 3-week campaign